The Core CTEC
AAC Assessment & Training Team
---
Take a behind the scenes peek at the dedicated individuals of CTEC.
Stephanie Maki
CTEC Program Manager
Stephanie has been an integral part of CTEC's day to day operations for several years. Now as CTEC's Program Manager, she continues to strive to provide a positive, client centered experience for our clients, and an invigorating, forward-thinking environment for CTEC staff. With more than 20 years of experience in administrative support, Stephanie effectively ensures all details are in place to keep CTEC running smoothly.
Eric Salter M.S. CCC-SLP
Speech-Language Pathologist
Eric received his Master's degree in Speech-Language Pathology from California State University Sacramento. He has been providing assessment, training and consultation services with CTEC for several years and has presented workshops on Alternative and Augmentation Communication (AAC) at local conferences. Eric enjoys working with people of all abilities and is passionate about helping individuals reach their full potential to participate in their communities.
Daejah Dedrick
AAC Trainer
After receiving two Associate's Degrees in Communication Studies and Behavioral and Social Sciences, Daejah quickly became aware of her passion for the art of communication and understanding what an indispensable role it plays in human connection and the world we live in. Furthering this passion, she recently obtained her Bachelor's Degree from California State University, Sacramento, in Communication Sciences and Disorders, with the objective of becoming a Speech-Language Pathologist. Prior to beginning her journey as a graduate clinician, Daejah has joined the CTEC team as an AAC device trainer, where she is eager to provide client-centered training services to our clients and their support teams, while continuing to further her knowledge and experience in the realm of speech, language and hearing sciences.
Kristen Carroll M.A. CCC-SLP
Lead Speech-Language Pathologist
Kristen has been providing assessment, training and consultation services with a focus on Augmentative & Alternative Communication (AAC) for over 30 years. She has presented at numerous state and national conferences on topics encompassing AAC evaluation, device set-up, vocabulary, training and service delivery. With Bonnie Mintun, she conducted the needs assessment and created the business plan and program design to get CTEC up and running. Since opening the doors in January, 2009, Kristen has been at the forefront of CTEC's focus on maintaining high expectations for all and allowing the individual to lead the process in determining appropriate devices, systems, and strategies to support their communication.
Elena Rast
AAC Trainer II
Elena is an experienced Occupational Therapist from Germany. She has worked for 10 years in various settings of neurological rehabilitation for adults in Germany and Switzerland before moving to the United States with her family. Her professional experiences are in all stages of rehabilitation, from intensive care to outpatient settings. Elena joined the CTEC team in 2019 and currently brings her OT knowledge to her work as an AAC Trainer. Elena enjoys working with clients of all ages. It is her desire to help her clients reach their personal goals and enable them to participate in all aspects of life.
Samantha Compton
Admin/Scheduler
Samantha is the newest member of CTEC's Admin Team. She comes to CTEC with a positive and joyful attitude and 10 years of customer service experience. Samantha loves to work with people face-to-face or via the phone/computer. As one of our schedulers, it is her goal to provide exceptional customer service, provide assistance and solutions when needed and to complete the interaction with a smile on both sides of the conversation.
Pippa Bellamy PhD, CCC-SLP
Speech-Language Pathologist
Pippa has been in the field of AAC for over a decade, working as a specialist speech language pathologist, providing assessment, training programs, and direct intervention for both children and adults. She completed her PhD in 2013, researching how children who use AAC devices can communicate stories in the educational environment. She has presented her research at multiple international conferences, as well as producing academic publications from her work. Pippa has been part of the CTEC team for over five years and loves supporting our clients to participate in communication across home, education, employment and the wider community.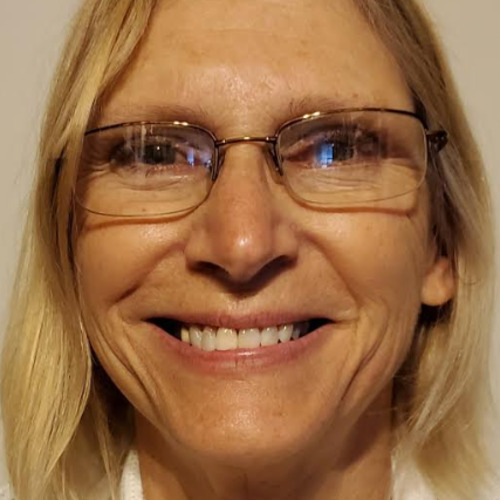 Sharon Sundman-Schultz SLPA
AAC Trainer
After leaving a long career in Respiratory Therapy, Sharon received her Bachelor's degree in Communication Sciences and Disorders in 2014 from California State University Sacramento. She volunteered with CTEC a few years ago and was excited to expand her knowledge and skills in the area of Augmentative & Alternative Communication. She has recently joined the CTEC team as a part-time AAC trainer. Sharon's desire is to support individuals of all ages and abilities to gain increased communication independence through AAC systems, devices, and strategies.
Keri Lohr
Admin/Scheduler
In her position as Administrative Assistant/Scheduler here at CTEC, Keri is often the first point of contact when you call or come to our office. She has a widely diverse background with more than experience in corporate, non-profit and government work environments. Keri is a valued part of the CTEC team as she strives to welcome everyone with a smile and tries to ensure every client interaction is courteous and compassionate. At the same time, she works diligently to fill our clinical calendars for maximum efficiency.
CTEC Mentors
Jaycee Beal • Kristen Lyall • Kate Iliff • Kristine O'Keefe